SPECIAL EVENTS
Sponsor of Possum Trot Workshop in Victorville and Annual "Country Fair" Workshop and Dance in August.

HOW THE CLUB FORMED
Apple Creek was formed by Marilyn Hansen because there wasn't a clogging club in the area. The members became a close-knit group who enjoyed skiing trips, cruises, and camping trips together.

OTHER INTERESTING CLUB HISTORY
Apple Creek has been very active in promoting clogging all over the world. Club members have been able to dance in the Doo Dah Parade, participated in the 1984 L.A. Olympics, and appeared in the movies "Wild Bill" and the "Hunters Moon". Marilyn was ready and willing to get a group together for any occasion that sounded like fun - we' ve even danced in a parade at a supermarket "Bag Boy" contest.

Marilyn passed away unexpectedly on March 8, 1999. She is fondly remembered and will always be missed by all whose lives she touched. The club continues as she would have wanted, under the capable leadership of Eric Bice and its club officers.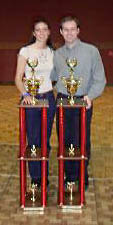 RITUALS, TRADITIONS & FUN CUSTOMS
Dancers become official cloggers when they graduate from the beginners class - complete with graduation ceremony and diploma. Our anniversary dance in October is an occasion when we all gather for our annual club picture. When you come to an Apple Creek dance, you never know when you might end up in the middle of a snowball fight, or get roped into participating in a team contest.
CLUB COLORS
Red and White
Michelle Gagnon and Eric Bice shown with
Overall Grand Champion Duo/Duet Trophies, 2002.